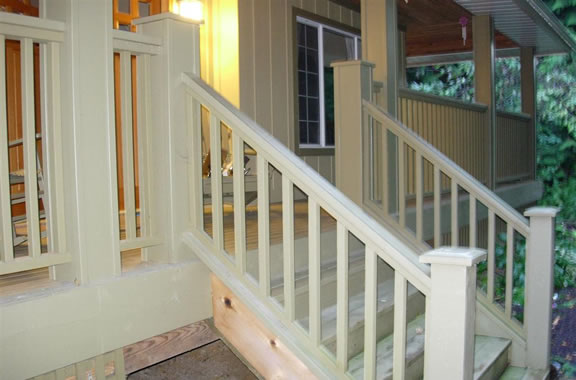 Custom Decks are a great way to get more relaxation and enjoyment out of your home.  The beautiful Vancouver summer offers you a great opportunity to enjoy the beauty of your own backyard from the comfort of a brand new wooden or composite deck. M. Southin and Sons Contracting can provide you with innovative deck plans that will transform your outdoor living space into something you'll love to enjoy.
Custom Decks & Deck Services We Provide:
Deck Design
Wood Deck Construction
Composite Deck Construction
Gazebos
Pergolas
Sunrooms
If there was just one single exterior home improvement any Vancouver homeowner could make to their home, that would enhance both the look and property value it would be the addition of a new custom deck.  Not just any old deck will do however, and there are several things you need to consider before you get to work building your deck.
Materials – M. Southin and Sons Contracting specializes in building decks out of decorative woods such as Cedar or Pine as well as some of the synthetic materials like Timber Tech and Trex.  There are a number of things to consider when building a deck. There is size, shape, height above ground and by-law set backs. We are able to help you through this confusing process. You may want real wood, maintenance free composite decking or linoleum style sheet flooring.  We'll come up with a detailed materials list based on what you tell us you'd like.   M. Southin and Sons is fully insured and ready to help you build your deck safely  and up to code.
Terrain – Is there terrain you'd like your deck built on already level?  Are there obstructions such as a stumps or trees?  Are there existing features of your property you'd like to incorporate or accent with your new deck?  This is why it's so critically important for an "on-site" estimate on your project, that way we there is no surprises for either party.
Landscape – Do you have a fantastic view you'd like to take advantage of…? or perhaps you want a place to enjoy the summer evening sunsets? These are important to consider when building your deck. It wouldn't be that enjoyable if your deck only received a few hours of sunlight every day, or maybe you'd like it that way! M. Southin and Sons Contracting will help you decide how to best utilize your property. A properly made deck will add value to your home. In fact many experts claim a 100% payback on your investment. This means every dollar you spend on building a new deck, is a dollar added to the value of your property.
If you're looking to add a new deck on your house for this spring or summer and quality is important to you then give M. Southin and Sons Contracting a call today!